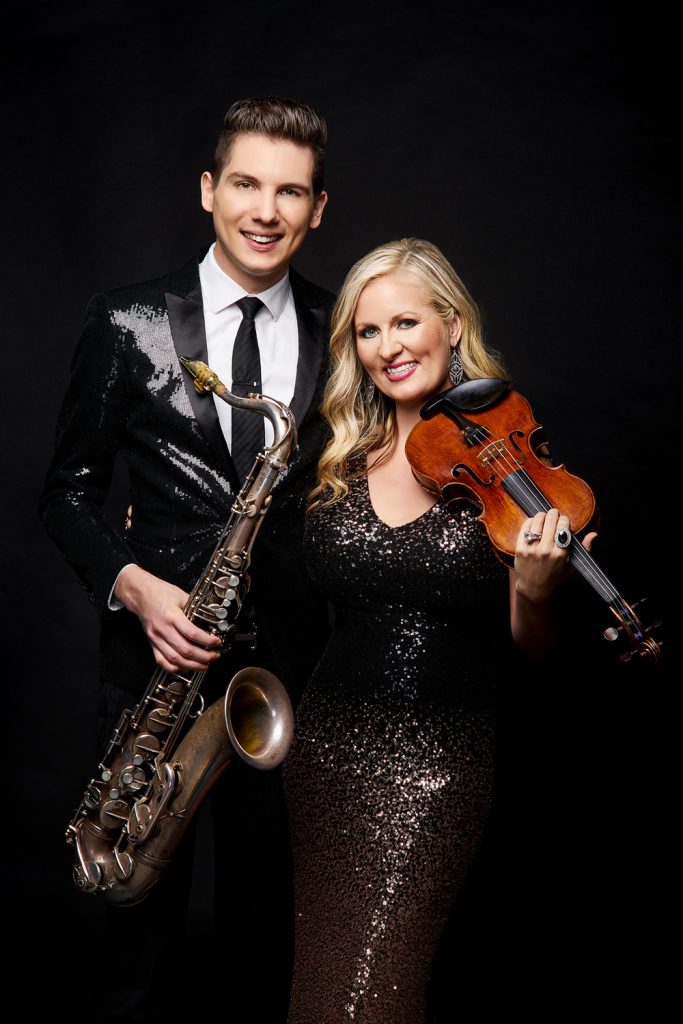 Award-winning jazz saxophonist Eli Bennett and international violin sensation Rosemary Siemens have been wowing audiences across the globe with their beautiful melodies, innovative sound and electrifying performance style since joining forces as SaxAndViolin. Based in Vancouver, Canada, this husband and wife duo have performed countless private events and concerts around the world for companies such as Lamborghini, Rolls Royce, Microsoft, Bentley, Dell, and L'Oreal Paris. They've also performed for Canada's Prime Minister on Parliament Hill, Hockey Night In Canada at Vancouver's Roger's Arena, and recently at The Vatican in Rome. Their debut album entitled Can't Help Falling In Love (Instrumental Love Songs), Vol. 1, featuring songs that inspired their love story, released on Valentine's Day, 2020, and debuted at #3 on the Canadian iTunes Charts.
Their music videos, including their recent cover of Lady Gaga's hit-song "Shallow" from the movie A Star is Born, and Ed Sheeran's hit-song "Perfect" have also garnered over ten million views on Facebook and YouTube. Their unique ability to play any style of music and jump seamlessly through genres and eras while maintaining their signature sound have made them a hit with a wide range of audiences.
International violin sensation Rosemary Siemens has performed four times at New York's Carnegie Hall and was the first violinist to ever perform at the Sistine Chapel at the Vatican since its inception in 1483. Rosemary has performed in over 25 countries, 40 U.S. States, for two U.S. Presidents and Canadian Prime Ministers, and recently won "Country/Gospel Album of the Year" at Canada's Gospel Music Awards. She also recently performed at Nashville's legendary Grand Ole Opry for the Inspirational Bluegrass Awards for which she was nominated for three awards.
Internationally award-winning jazz saxophonist Eli Bennett is one of Canada's most recognized saxophonists. He has performed twice at the GRAMMY Awards in Los Angeles, shared the stage with the likes of Oscar Peterson and the Neville Brothers, opened for the legendary pianist Herbie Hancock, and had one of the top jazz albums in Canada with his WCMA nominated "Jazz Album of the Year" debut, Breakthrough. Bennett has also received a Juno Award nomination for "Instrumental Album of the Year".
Combined with their genuine warm personalities, extraordinary musical accomplishments and dazzling style, SaxAndViolin brings something more than just music – they make a lasting impression that leaves every audience wanting more.